Multi Lines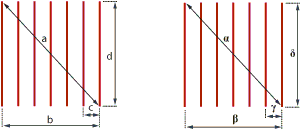 Pattern Size @ 100 mm Distance

(@ Design Wavelength)

Pattern Angles

(@ Design Wavelength)
Special Patterns
Pattern Size @ 100 mm Distance (@ Design Wavelength)

Pattern Angles (@ Design Wavelength)

Width: 27 mm
Height: 17.7 mm
Diagonal: 32 mm

Width: 15.5°
Height: 10.1°
Diagonal: 18.2°

Width: 61 mm
Height: 61 mm
Diagonal: 86 mm

Width: 34°
Height: 34°
Diagonal: 47°

Viewfinder

(Circle + Cross)

Width Cross: 37 mm
Circle Ø: 18.3 mm

Width Cross: 21°
Circle Ø: 10.5°

Viewfinder

(Dot Circle + Cross)

Width Cross: 11 mm
Circle Ø: 8.8 mm
Dot Spacing: 1.1 mm

Width Cross: 6.3°
Circle Ø: 5°
Angle betw. Dots: 0.63°

Width: 12.3 mm
Height: 12.3 mm
Diagonal: 17.4 mm
Dot Spacing: 0.5 mm

Width: 7.0°
Height: 7.0°
Diagonal: 10.0°
Angle betw. Dots: 0.3°

Viewfinder

(Circle + Cross)

Width Cross: 49.9 mm
Circle Ø: 24.6 mm

Width Cross: 28.0°
Circle Ø: 14.0°

Width: 65.9 mm
Height: 65.9 mm
Diagonal: 93.2 mm

Width: 36.5°
Height: 36.5°
Diagonal: 50.0°

Width: 60.2 mm
Height: 60.2 mm
Diagonal: 85 mm

Width: 33.5°
Height: 33.5°
Diagonal: 46°

Square Grid

51 x 51 Lines

Width: 39 mm
Height: 39 mm
Diagonal: 55 mm
Line Spacing: 0.77 mm

Width: 22°
Height: 22°
Diagonal: 31°
Angle betw. Lines: 0.44°

Width: 51 mm
Line Spacing: 5.1 mm

Width: 29°
Line Spacing: 2.8°

Width: 96.2 mm
Line Spacing: 4.8 mm

Width: 51.4°
Line Spacing: 2.6°

Width: 72.8 mm
Height: 72.8 mm
Diagonal: 102.9 mm
Line Spacing: 8.1 mm

Width: 40.0°
Height: 40.0°
Diagonal: 51.4°
Angle betw. Lines: 4°
Large-angle pattern that due to its symmetry properties is subject to geometrical distortion, if the DOE is used at laser wavelengths significantly different (Δλ > 50nm) from the design wavelength.
Note:
Customized Lasers:In the event that none of our standard products meet your exact requirements,our customized design service provides single prototypes and small production runs in just a few days.
Let us help you find the right solution for your project! If you have any questions, please feel free to contact us.